Idrott & hälsa - Idrottslärarnas tidning
Tidningen Idrott & hälsa ges ut sex gånger per år.
Som prenumerant får du tillgång till det senaste inom ämnet Idrott och Hälsa.
En prenumeration kostar 20kr/månad (dras i samband med fackavgiften etc.).
Målet med tidningen är nå ut med information till våra medlemmar.
Om du redan är medlem hos LR, kontakta dem och ange att du är idrottslärare och att du vill ha tidningen (08-613 27 00)!
Redaktionen
Ansvarig utgivare
Klas Johansson
Redaktör
Niclas Samuelsson
Kassör
Nettan Askerlöf

Kontaktperson för artiklar och annonsering är
Niclas Samuelsson - tips på artiklar, händelser, fortbildningar, krönikörer etc. tas gärna emot.

---
Vår policy - GDPR
Syfte
Stiftelsen Tidskrift i gymnastik och idrotts integritetspolicy är upprättad för att man ska känna sig trygg att lämna sina personuppgifter till oss. Policyn utgår från gällande dataskyddslagstiftning och förklarar hur vi jobbar för att ta vara på dina rättigheter och din integritet. Syftet är att du ska veta hur vi behandlar personuppgifter. Hur vi använder dem, vilka som får ta del av dem och under vilka förutsättningar.
Bakgrund
Vi behandlar dina personuppgifter i den omfattning det behövs för att vi ska kunna identifiera dig som vår kund, för att kunna fullfölja våra förpliktelser med dig om leverans av tjänster och produkter. Vi behandlar även dina personuppgifter för våra erbjudanden, administration och fakturering.
Vilka personuppgifter behandlar vi?
Vi behandlar inte fler personuppgifter än vad som behövs.Exempel på personuppgifter vi behandlar:
• Namn
• Företag
• Adress
• E-postadress
• Telefonnummer
Hur samlas uppgifterna in?
Vi får oftast samtliga personuppgifter direkt från dig som kund eller i samband med att du kontaktar oss via mötesplatser, telefon, e-post, webbsidor, anmälan till nyhetsbrev och sociala medier.
Hur skyddas uppgifterna?
Utgångspunkten är att endast styrelsen och andra personer inom organisationen som behöver personuppgifterna för
att utföra sina arbetsuppgifter och åtaganden gentemot dig ska ha tillgång till dem. Våra säkerhetssystem är utvecklade med din integritet i fokus och skyddar i mycket hög grad mot intrång, förstöring samt andra förändringar som kan inne- bära en risk för din integritet. Servrarna där dina uppgifter förvaras säkerställer att dina personuppgifter behandlas säkert.
Hur länge sparas uppgifterna?
Vi sparar aldrig personuppgifter längre än vad vi behöver. De sparas därmed också under olika långt tid beroende på vad de ska användas till och våra skyldigheter enligt lag.
Hur använder vi den insamlade informationen?
Vi behandlar personuppgifterna i huvudsak för de ändamål som anges nedan samt för de eventuella ytterligare ändamål som anges vis insamlingspunkten.
För att fullgöra dina beställningar av våra tjänster.

För att möjliggöra god kundservice, så som att hantera dina förfrågningar, rätta felaktiga uppgifter eller för att skicka information, t.ex. vårt nyhetsbrev.

För att administrera kundprofiler, genomföra analyser och marknadsundersökningar.

För Systemadministration och statistik.

För att kunna skicka dig information och marknadsföring via e-post och sociala medier.

För att kunna kontakta dig via e-post, post, sociala medier om andra erbjudanden, kampanjer eller tjänster som vi tror kan vara av intresse för dig.

För att kunna ge dig relevanta rekommendationer, erbjudanden och anpassade tjänster.

För att hjälpa oss att utveckla vår webbplats att vara mer användbar för dig som kund samt för att ge dig en bättre användarupplevelse.

För att kunna skicka viktiga meddelanden som kommunikation om förändringar i villkor och policy.
Till vem lämnas uppgifterna ut?
Utgångspunkten är att inte lämna ut dina personuppgifter till tredje part om du inte har samtyckt till det eller om det inte är nödvändigt för att uppfylla våra förpliktelser mot dig eller enligt avtal eller lag. I de fall vi lämnar ut personuppgifter till tredje part upprättar vi sekretessavtal samt säkerställer att personuppgifterna behandlas på ett betryggande sätt.

---

---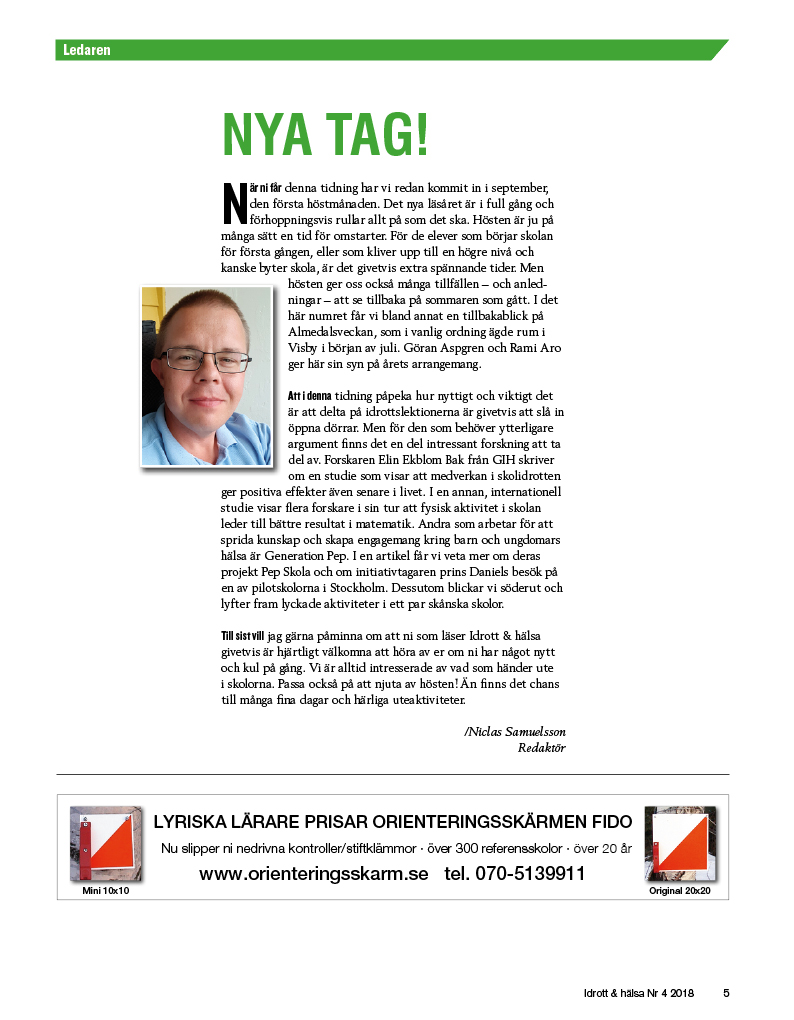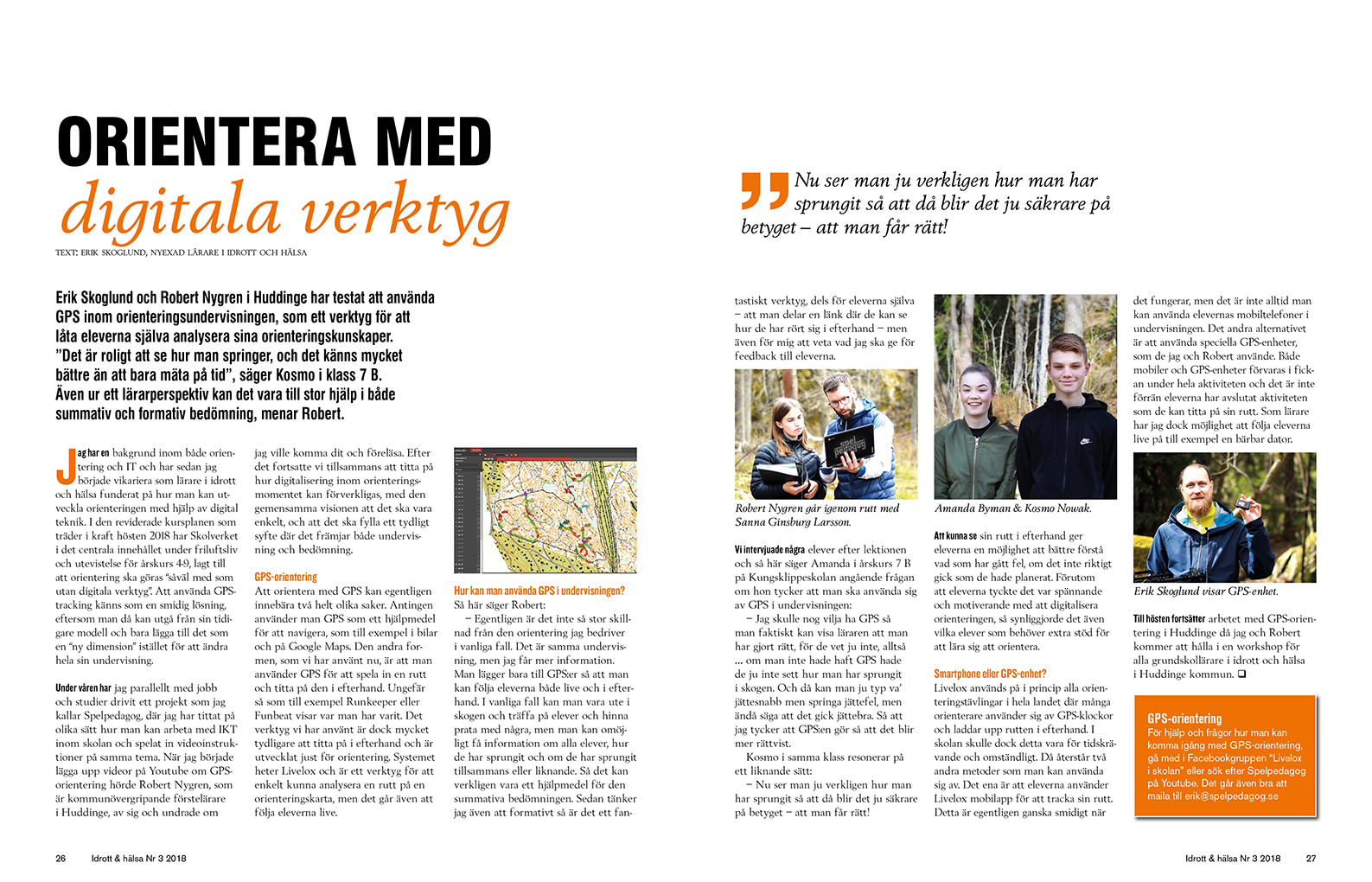 ---
---
Tillägg nr 1 Idrott & hälsa 2017:
Aktuella rekommendationer för fysisk aktivitet- Ingegerd Ericsson sid 25 och 26.

Konferensens resultat har fått stor medial uppmärksamhet i Danmark och andra länder, men ännu inte särskilt stor spridning i Sverige. Här är ett axplock ur internationell press:

Los Angeles Times:
http://www.latimes.com/science/sciencenow/la-sci-sn-exercise-kids-school-20160627-snap-story.html

Spiegel:
http://www.spiegel.de/gesundheit/ernaehrung/kognitive-leistungsfaehigkeit-bewegung-hilft-dem-kopf-a-...=

The Guardian:
https://www.theguardian.com/society/2016/jun/27/exercise-helps-children-learn-say-experts?CMP=share_...

Huffington Post:
http://www.huffingtonpost.co.uk/entry/exercise-boost-kids-brain-power_uk_576d0d03e4b08d2c5638ff3a

Medical research:
http://medicalresearch.com/author-interviews/consensus-statement-discusses-successful-implementation...

Medical Daily:
http://www.medicaldaily.com/physical-activity-childrens-health-academically-fit-390732

Referenser:
Bangsbo, Jens, Krustrup, Peter, Duda, Joan, Hillman, Charles, Andersen, Lars Bo, Weiss, Maureen, Williams, Craig A., Lintunen, Taru, Green, Ken, Riis Hansen, Peter, Naylor, Patti-Jean, Ericsson, Ingegerd, Nielsen, Glen, Froberg, Karsten, Bugge, Anna, Lundbye-Jensen, Jesper, Schipperijn, Jasper, Dagkas, Symeaon, Agergaard, Sine, von Seelen, Jesper, Østergaard, Charlotte, Skovgaard, Thomas, Busch, Henrik, & Elbe, Anne-Marie (2016a). Consensus statement. The Copenhagen Consensus Conference 2016: children, youth, and physical activity in schools and during leisure time. British Journal of Sports Medicine, doi:10.1136/bjsports-2016-096325. Available 2016-06-27 on http://bjsm.bmj.com/content/early/2016/05/27/bjsports-2016-096325.full

Ericsson, I. (2016). Motorikobservationer vid skolstarten. Skolhälsan, (2), 18-19.

Bangsbo, J., Krustrup, P., Duda, J., Hillman, C., Andersen, L. B., Williams, C. A., Weiss, M., Lintunen, T., Green, K., Riis Hansen, P., Naylor, P-J., Ericsson, I., Nielsen, G., Froberg, K., Bugge, A., Lundbye-Jensen, J., Schipperijn, J., Dagkas, S., Agergaard, S., von Seelen, J., Østergaard, C., Skovgaard, T., Busch, H., & Elbe, A-M. (2016b). BØRN, UNGE OG FYSISK AKTIVITET – en konsensuskonference. Köpenhamn: Institut for Idræt og Ernæring, Københavns Universitet. Tillgänglig 2016-12-30 på www.mugi.se

Bangsbo, J., Krustrup, P., Duda, J., Hillman, C., Andersen, L. B., Williams, C. A., Weiss, M., Lintunen, T., Green, K., Riis Hansen, P., Naylor, P-J., Ericsson, I., Nielsen, G., Froberg, K., Bugge, A., Lundbye-Jensen, J., Schipperijn, J., Dagkas, S., Agergaard, S., von Seelen, J., Østergaard, C., Skovgaard, T., Busch, H., & Elbe, A-M. (2016c). The Copenhagen Consensus Conference 2016 – Children, Youth, and Physical Activity in Schools and during Leisure Time. Copenhagen: Copenhagen Centre for Team Sport and Health, Department of Nutrition, Exercise and Sports, University of Copenhagen. Available 2016-12-30 on www.mugi.se

Undervisningsministeriet (2016). Timetal, § 15. Tillgänglig 2016-12-22 på https://www.retsinformation.dk/forms/r0710.aspx?id=182008

Theme 1: Physical activity in children and youth: Fitness and health

Andersen LB, Riddoch C, Kriemler S & Hills A (2011). Physical activity and cardiovascular risk factors in children. Br J Sports Med 45:871-876.

Andersen LB, Lauersen JB, Brond JC, Anderssen SA, Sardinha LB, Steene-Johannessen J et al (2015). A new approach to define and diagnose cardiometabolic disorder in children. J Diabetes Res 2015:539835.

Ahler T, Bendiksen M, Krustrup P & Wedderkopp N (2012). Aerobic fitness testing in 6- to 9-year-old children: reliabili­ty and validity of a modified Yo-Yo IR1 test and the Andersen test. Eur J Appl Physiol 112:871-876.

Bendiksen M, Williams CA, Hornstrup T, Clausen H, Kloppenborg J, Shumikhin D, Brito J, Horton J, Barene S, Jackman SR & Krustrup P (2014). Heart rate response and fitness effects of various types of physical education for 8- to 9-year-old schoolchildren. Eur J Sport Sci 14:861-869.

Flint E & Cummins S (in press). Active commuting and obesity in mid-life: cross-sectional, observational evidence from UK Biobank. Lancet Diabetes Endocrinol 2016 March 16 [Epub ahead of print].

Hay J, Maximova K, Durksen A, Carson V, Rinaldi RL, Torrance B, Ball GD, Majumdar SR, Plotnikoff RC, Veugelers P, Boulé NG, Wozny P, McCargar L, Downs S, Lewanczuk R & McGavock J (2012). Physical activity intensity and car­diometabolic risk in youth. Arch Pediatr Adolesc Med 166:1022-1029.

Kriemler S, Meyer U, Martin E, Van Sluijs EMF, Andersen LB & Martin BW (2011). Effect of school-based interventions on physical activity and fitness in children and adolescents: a review of reviews and systematic update. Br J Sports Med 45:923-930.

Krustrup P, Aagaard P, Nybo L, Petersen J, Mohr M & Bangsbo J (2010). Recreational football as a health promoting activity: a topical review. Scand J Med Sci Sports 20(Suppl.1):1-13.

Krustrup P, Hansen PR, Nielsen CM, Larsen MN, Randers MB, Manniche V, Hansen L, Junge A, Dvorak J & Bangsbo J (2014). Cardiovascular adaptations to a 10-wk small-sided school football intervention for 9-10-year-old children. Scand J Med Sci Sports 24(Suppl.1):4-9.

Ortega FB, Ruiz JR, Castillo MJ, & Sjöström M (2008). Physical fitness in childhood and adolescence: a powerful marker of health. Int J Obes 32:1-11.

Ostergaard L, Borrestad LA, Tarp J & Andersen LB (2012). Bicycling to school improves the cardiometabolic risk factor profile: a randomised controlled trial. BMJ Open 2(6):e001307.

Steene-Johannessen J, Anderssen SA, Kolle E & Andersen LB (2009). Low muscle fitness is associated with metabolic risk in youth. Med Sci Sports Exerc 41:1361-1367.

Ørntoft C, Fuller CW, Larsen MN, Bangsbo J, Dvorak J & Krustrup P (in press). "FIFA 11 for Health" in Europe: II - effect on health markers and physical fitness in 10 to 12 year-old Danish school children. Br J Sports Med 2016 April 29 [E-Pub ahead of print].

Theme 2: Physical activity in children and youth: Cognitive functioning

Ahamed Y, Macdonald H & Reed K et al (2007). School-based physical activity does not compromise children's acade­mic performance. Med Sci Sports Exerc 39:371-376.

Donnelly JE, Greene JL, Gibson CA, Smith BK, Washburn RA, Sullivan DK et al (2009). Physical Activity Across the Curriculum (PAAC): a randomized controlled trial to promote physical activity and diminish overweight and obesi­ty in elementary school children. Prev Med 49:336-341

Ericsson I & Karlsson M (2014). Motor Skills and School Performance in Children with Daily Physical Education in School – A Nine-Year Intervention Study. Scandinavian Journal of Medicine and Science in Sports 24(2):273-278.

Hillman CH, Pontifex MB, Raine L, Castelli DM, Hall EE & Kramer AF (2009). The effect of acute treadmill walking on cognitive control and academic achievement in preadolescent children. Neuroscience 159:1044-1054.

Hopkins ME, Davis FC, Vantieghem MR, Whalen PJ & Bucci DJ (2012). Differential effects of acute and regular physical exercise on cognition and affect. Neuroscience 215:59-68.

Jaakkola T, Hillman CH, Kalaja S & Liukkonen J (2015). The associations among fundamental movement skills, self-re­ported physical activity, and academic performance during junior high school in Finland. Journal of Sports Sciences 33:1719-1729.

Kantomaa MT, Stamatakis E, Kankaanpaa A, Kaakinen M, Rodriguez A, Taanila A, Ahonen T, Jarvelin MR & Tammelin T. Physical activity and obesity mediate the association between childhood motor function and adolescents' aca­demic achievement. Proc Natl Acad Sci USA 110:1917-1922.

Mahar MT, Murphy SK, Rowe DA, Golden J, Shields AT & Raedeke TD (2006). Effects of a classroom-based program on physical activity and on-task behavior. Medicine & Science in Sports & Exercise 38:2086-2094.

Norris E, Shelton N, Dunsmuir S, Duke-Williams O & Stamatakis E (2015). Physically active lessons as physical activity and educational interventions: a systematic review of methods and results. Prev Med 72:116-125.

Pontifex MB, Saliba BJ, Raine LB, Picchietti DL & Hillman CH (2013). Exercise improves behavioral, neurophysiologic,and scholastic performance in children with ADHD. The Journal of Pediatrics 162:543-551.

Roig M, Thomas R, Mang CS, Snow NJ, Ostadan F, Boyd LA & Lundbye-Jensen J (2016). Time-dependent effects of cardiovascular exercise on memory. Exerc Sport Sci Rev 44(2):81-88.

Sallis JF, McKenzie TL & Kolody B et al (1999). Effects of health-related physical education on academic achievement: project SPARK. Res Q Exerc Sport 70:127-134.


Theme 3: Physical activity in children and youth: Engagement, motivation and psy­chological well-being

Balaguer I, González L, Fabra P, Castillo I, Mercé J & Duda JL (2012). Coaches' interpersonal style, basic psychological needs and the well- and ill-being of young soccer players: A longitudinal analysis. Journal of Sports Sciences 30:1619-1629.

Danish SJ, Forneris T, Hodge K & Heke I (2004). Enhancing youth development through sport. World Leisure 46(3):38-49.

Deci EL & Ryan RM (2000). The "what" and "why" of goal pursuits: Human needs and the self-determination of be­haviour. Psychological Inquiry 11:227-268.

Duda JL & Appleton P (in press). Empowering and disempowering coaching behaviors: Conceptualization, me­asurement considerations, and Intervention Implications. In: Raab M, Wylleman P, Seiler R, Elbe A-M, & Hatzigeorgiadis A (Eds.). Sport and Exercise Psychology Research: From Theory to Practice. Elsevier.

Duda JL & Balaguer I (2007). Coach-created motivational climate. In Jowett S & Lavallee D (Eds.). Social psychology in sport (pp. 117-130). Champaign, IL: Human Kinetics.

Gould D & Carson S (2008). Life skills development through sport: Current status and future directions. Sport and Exercise Psychology Review 1:58-78.

Lintunen T & Gould D (2014). Developing social and emotional skills. In: Papaioannou A & Hackfort D (Eds). Routledge companion to sport and exercise psychology. Global perspectives and fundamental concepts (pp. 621-635). London: Routledge.

Owen B, Smith J, Lubans DR, Ng JYY & Lonsdale C (2014). Self-determined motivation and physical activity in children and adolescents: A systematic review and meta-analysis. Preventive Medicine 67(0):270-279.

Sabiston CM & Crocker PRE (2008). Exploring self-perceptions and social influences as correlates of adolescent le­isure-time physical activity. Journal of Sport & Exercise Psychology 30:3-22.

Weiss, MR, Bhalla JA & Price MS (2007). Developing positive self-perceptions through youth sport participation. In Hebestreit H & Bar-Or O (Eds.). The encyclopaedia of sports medicine, Vol. X: The young athlete (pp. 302-318). Oxford, UK: Blackwell Science, Ltd.

Theme 4: Physical activity in children and youth: Social inclusion and physical acti­vity implementation strategies

Engström LM (2008). Who is physically active? Cultural capital and sports participation from adolescence to middle age. A 38-year follow-up study. Physical Education & Sport Pedagogy 13(4):319-343.

Scheerder J, Vanreusel B, Beunen G, Claessens A, Renson R, Thomis M, Vanden Eynde B & Lefevre J (2008). Lifetime adherence to sport and physical activity as a goal in physical education. In search of evidence from longitudinal data. In: Seghers J & Vangrunderbeek H (Eds.). Physical Education Research. What's the Evidence? (pp. 29-40).

Vanreusel B & Scheerder J (2016). Tracking and youth sport: The quest for lifelong adherence to sport and physical ac­tivity. In Green K and Smith A (Eds.). Routledge Handbook of Youth Sport (pp. 148-157). London: Routledge.

Naylor P, Nettlefold L & Race D et al (2015). Implementation of school based physical activity interventions: a systema­tic review. Prev. Med 72:95-115.

Russ LB, Webster CA, Beets MW & Phillips DS (2015). Systematic Review and Meta-Analysis of Multi-Component Interventions Through Schools to Increase Physical Activity. Journal of Physical Activity & Health 12(10):1436-1446.

Ridgers ND, Salmon J, Parrish A-M, Stanley RM & Okely AD (2012). Physical Activity During School Recess: A Systematic Review. American Journal of Preventive Medicine 43(3):320-328.

Dagkas S & Armour K (Eds.) (2012). Inclusion and Exclusion through Youth Sport. London: Routledge.

Dagkas S & Hunter L (2015). 'Racialised' pedagogic practices influencing young Muslims' physical culture. Physical Education and Sport Pedagogy 20(5):547-558.

Frohlich KL & Abel T (2014). Environmental Justice and Health Practices: Understanding How Health Inequities Arise at the Local Level. Sociology of Health and Illness 36(2):199-212.

Nielsen G, Grønfeldt V, Støckel JT & Andersen, LB (2012). Predisposed to participate? The influence of family so­cio-economic background on children's sports participation and daily amount of physical activity. Sport in Society 15(1):1-27.

Medverkande forskare:

Anna Bugge - University of Southern Denmark, Denmark
Anne-Marie Elbe - University of Copenhagen, Denmark
Charles Hillman - University of Illinois, USA
Charlotte Østergaard - Metropolitan University College, Denmark
Craig A. Williams - University of Exeter, United Kingdom
Glen Nielsen - University of Copenhagen, Denmark
Henrik Busch - Metropolitan University College, Denmark
Ingegerd Ericsson - Malmö University, Sweden
Jasper Schipperijn - University of Southern Denmark, Denmark
Jens Bangsbo - University of Copenhagen, Denmark
Jesper Lundbye-Jensen - University of Copenhagen, Denmark
Jesper von Seelen - University of Copenhagen, Denmark
Joan Duda - University of Birmingham, United Kingdom
Karsten Froberg - University of Southern Denmark, Denmark
Ken Green - University of Chester, United Kingdom
Lars Bo Andersen - Sogn og Fjordane University College, Norway
Maureen Weiss - University of Minnesota, USA
Patti-Jean Naylor - University of Victoria, Canada
Peter Krustrup - University of Copenhagen, Denmark
Peter Riis Hansen - Gentofte Hospital, Denmark
Sine Agergaard - Aarhus University, Denmark
Symeon Dagkas - University of East London, United Kingdom
Taru Lintunen - University of Jyvaskyla, Finland
Thomas Skovgaard - University of Southern Denmark, Denmark

---
Läs mer om Konsensuskonkonferensen från nr 4 2016 av Idrott & hälsa.
Här finns länkar till utländska tidningar för att läsa vad de skrivit om Konsensuskonferensen - Los Angeles Times, Spiegel, The Guardian, Huffington Post, Medical research och Medical Daily.

---